CV of Dorit Barlevy M.A.
Expertise/Research Field: Dorit Barlevy's main research interests reside in the area of reproductive ethics. She is concerned with exploring the reasons why people want to be parents, and what it means to be a "good" parent. Her current doctoral research project investigates adolescent oncofertility decision making in Israel and Switzerland.
Main Publications: Ms. Barlevy has previously published on the topics of prenatal testing and pre-implantation genetic diagnosis (with Adrienne Ash, 2012) as well as reproductive decision making and health information disclosure to family members in the face of a genetic predisposition (with others, 2012 and 2015). Her most recent publications report on findings from a comprehensive systematic literature review on adolescent oncofertility discussions (with others, 2016 and 2017). Forthcoming publications will focus on the empirical findings from her project on adolescent oncofertility.
Awards: Ms. Barlevy has received scholarships from the Wisconsin Alumni Association (1999-2013) and the Erasmus Mundus Association (2008-2009). She has been awarded grants from the Botnar Foundation from the University of Basel (2013-2017) and the Swiss Cancer League (2015-2016).
Stations of Work: Ms. Barlevy has previously worked as a research and editorial assistant at the Center for Bioethics and Humanities at SUNY Upstate Medical University. Additionally, she worked at the Center for Ethics at Yeshiva University as a program and research assistant. Between 2005 and 2008 Ms. Barlevy served as an international relations officer at the Israeli Medical Association.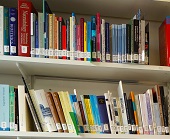 Dorit Barlevy M.A.
Research Assistant
Bernoullistrasse 28
4056 Basel
Tel: +41 61 207 09 63
Fax: +41 61 207 17 80