Congratulations to Kirubel Mussie for winning the Science Speed Talks 2022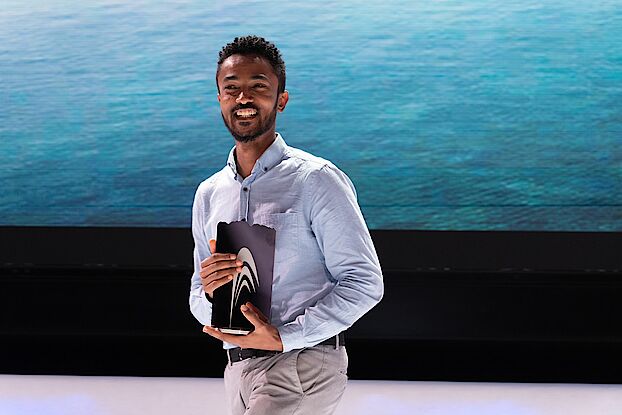 Kirubel Mussie, one of our PhD students, won an international 3-minute science speed talk competition held at the Geneva Health Forum 2022.
The Science Speed Talk was held on the closing ceremony of the Geneva health Forum (3 – 5 May 2022). It is organized by Geneva Health Forum in collaboration with the Swiss School of Public Health (SSPH+). The 3-minute speed talk competition is open to all authors around the globe who have carried out their research as part of their graduate study (masters, PhD, etc). This year, the jury selected four applicants to present their work in person in Geneva. Kirubel Mussie, a PhD student at our institute, was one of this four finalists and gave a 3-minute speech on the topic "Ethical challenges with decision-making in elder care in Ethiopia". At the end of the presentations, the public voted for Kirubel's presentation and this awarded him with the statuettes of the Jets d'Or of Geneva (made by the Swiss sculptor Igor Ustinovse) together with 1'000 CHF.
For more information: https://site.ghf2022.org/science-speed-talks-2022/